If you want to save more money for your concrete pumping business, you're going to have to get smarter on buying concrete pump pipes, which is not an easy expedition these days unless you know everything about the ins and outs of it.
One of the biggest challenges that you might face is having no idea if you had negotiated a good deal or got ripped off. And I can certainly relate to that while I was dealing with tons of concrete pump pipe manufacturers in the past 10 years. That is the main reason I started Hello-Parts.com.
And, that's what I'm going to share in this article. It will cover:
What is Concrete Pump Pipe? (Very basic but important)
How Many Types of Concrete Pump Pipe?
How to Choose the Correct Concrete Pump Pipe for Your Business?
Design Your Purchase
Ask about Warranty
Let's get started…
What is Concrete Pump Pipe?
Concrete pump pipes are used with concrete pumps to ensure that the concrete is delivered correctly and safely to where it needs to be. It's an essential part of truck-mounted concrete pumps, trailer pumps, or placing booms.
The concrete pump pipe is the most wearing component on a concrete pump as it has the biggest contact and the most friction with the concrete. The durability of pipes is one of the major factors to the pumping efficiency.
Photo source: putzmeister.com
How Many Types of Concrete Pump Pipe?
There are different ways to classify concrete pump pipes.
On the basis of different machines, we have pipes particular for truck-mounted concrete pumps with low working pressure, and pipes for stationery pumps with high working pressure.
On the basis of the position used on the truck-mounted concrete pump, you can see boom pipes and deck pipes.
On the basis of the pipe diameter, there are DN150, DN125, DN117, DN100, etc.
While the most common types we talk about are classified by the pipe structure and material. They are:
Twin-wall pipeline has an inner wear-resistant layer lining with an outer steel shell, and a chrome carbide liner to protect the pipes from excessive wear.
The thickness of an inner wear-resistant layer is various from 2.5mm to 5.6mm which is made of high-quality alloy steel (like 65Mn, GCr15, NM55, or NM600) with induction hardening.
The outer shell is made of high-strength and seamless steel with a maximum of 85bar working pressure to protect the concrete pump pipe from blowing out.
The twin-wall pipe system is widely used by OEM manufacturers including Putzmeister, Schwing, Cifa, Zoomlion, Sany, and many others. The well-known brands are ESSER TWIN PIPES and Schwing SUPER 2000 and SUPER3000 series.
It usually includes two types:
It is commonly made of 45Mn and chrome carbide lined weld ends with a service life of 20000m³ to 30000m³. The whole pipe is induction quenched to achieve better strength and abrasion resistance.
It is commonly made of ST52 with a thickness of 4.5mm and 5.0mm for less demanding operations. This kind of pipe is not quenched and usually for short-term use.
It is combined with a twin wall and single wall to achieve the balance of performance and cost. The input of pipe was a short length twin wall pipe connected with a single-wall pipe. Because the input part bears much higher wearing, in this way, the service life is longer than the single-wall pipe, and the cost is lower than the twin-wall pipe.
Comparison of Service Life
How to Choose the Correct Concrete Pump Pipe?
Know Your Machine
Different concrete pumps need different concrete pump pipes.
Stationary pumps are usually applied for high tower pumping which requires higher working pressure. Thus you need to choose pipes with a higher working pressure like 130 bar. Considering less abrasion, bigger quantity and easier replacement, induction hardened, or even non-hardened single-wall concrete pump pipe with lower cost is a good choice.
Photo source: zoomlion.com
Truck-mounted concrete pumps have lower pumping pressure, so pipes of 85 bar working pressure are enough. However, more elbows will cause more pipe abrasion. And it takes more time and labor costs to replace the damaged pipe while the pump is working at the site. Therefore, you'd better use more wear-resistant twin-wall pipes to ensure efficiency. In practice, some people also use single-wall pipes on truck-mounted concrete pumps for other considerations which I will analyze below.
Know Your Circumstances
Temperature and labor cost
I have clients who are working in super hot places like the Middle East and Africa. They use a lot of single-wall concrete pump pipes of low prices. As concrete becomes solid fast in high temperatures and pipes getting blocked often. Instead of clearing the pipes, they prefer just replace them with new ones. Saving time is saving more money for their business.
On the contrary, most European and North American clients like to use twin-wall pipes. For their concern, using single-wall pipes will raise the frequency of changing pipes. It will increase the operation cost accordingly because the local labor cost is high there.
Concrete Grade and Aggregate Type
Higher concrete grade andtough aggregate can speed up the abrasion of concrete pump pipes. For example, the aggregate in Sichuan Province and Guizhou Province of China is very tough and sharp, the service life of pipes is less than half compared to the other places in China.
If you don't want to be fatigued in pipe maintenance and replacement under such circumstances, you will need high wear-resistant twin-wall pipes.
Know Your Budget
After checking the above information, you are able to know which type of concrete pump pipe is suitable for your machine. The final step is to check details according to your budget. As you'll find for each type, there are different prices with different configurations. Below is the checklist of configurations for options to meet your budget.
#1 Pipe wall thickness
For each type of pipe, different wall thicknesses are available for particular requirements. A thicker wall means higher abrasion resistance but also means a higher price and heavier weight. You can find the most popular thicknesses of concrete pump pipes at Hello-Parts.com
#2 Pipe surface paint
Baking varnish paint looks more smooth and pretty. But the spray paint is cheaper. If you don't have requirements for the surface of concrete pump pipes, you can save 0.50 to 1.00 US dollars by choosing spray paint.
#3 Flange type
Firstly, check the flange type on your concrete pumps before placing the order. Different pump brands have different flange types like SK, ZX, FM and etc.
Secondly, you have options for with or without Chrome carbide liner. Generally, I suggest twin wall pipes with chrome carbide liner welded ends.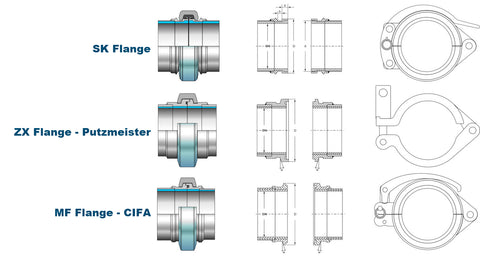 #4 Packing
For FCL shipment, you can choose bulk loading without packing. In this way, you will save the packing cost and load more pieces as well.
Design Your Purchase
Concrete pump pipe is a fast-consuming component. It's better to have a buying schedule for every month, every quarter, or every year in order to ensure your in-time supply.
And because the most-demanded 3 meter pipe is heavy. Shipping cost has a high proportion of the total order value. Bulk purchase with containers can greatly reduce the cost of each piece of pipe.
Ask about Warranty
Except for the non-hardened single-wall concrete pump pipe, other pipes I listed above are usually with service life warranty. For example, Hello Parts' best-selling T50 5.0mm twin-wall pipe is for 60,000 cubic meters concrete pumping volume, and the T55 5.5mm twin-wall pipe can achieve 80,000 cubic meters.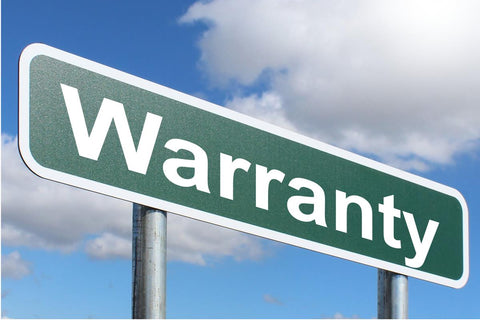 In a general way, the warranty is mainly based on two conditions:
#1 Change the complete set of boom pipe, deck pipe including elbows together with the same configurations.
#2 Guaranteed volume is calculated by pumping general concrete grades like Grade C30 in China. Not applicable for higher grades or with special tough aggregates.
In actual operation, it might be difficult for some users to meet both conditions because of various objective factors. Anyhow it's a good way to tell the quality difference by comparing the warranty.
Conclusion
Along with the pandemic is getting controlled step by step, most markets restarted the work. Still, it will be a tough year for the concrete industry. Everybody is looking for better solutions to keep going. What I shared here is from my own experience with concrete pump pipe manufacturers and my clients. I hope this article could be helpful in your business.
If you have further questions about buying concrete pump pipe that I didn't answer here, let me know in the comments and I'll answer them here or in a future blog post.